Established 20 March 2003
International Association of All Terror Victims.
Base congregations in Venice, Frankfurt/M., Lüderitz, Zurich, Rome, New York, Bombay, New York, La Paz, Port au Prince, Mallorca, Vienna etc.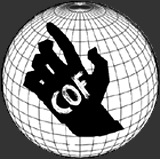 WARNING!
We are sympathisers and members of the CHURCH of FEAR and are part of a group of people who are victims of terror every day and around the world.
They want to make us fear.
They are destroying our faith.
That is why the CHURCH of FEAR declares:
Let us fight the politicians' MONOPOLY ON TERROR!
Let us fight their supposedly illuminated leaders!
Let us sabotage the fear-producing media machine.
Join the fight! Join us!
Become a member by making the Confession of Fear!
They have taken our faith, but they will not take our fear!
The CHURCH of FEAR says:
FEAR is POWER!
FEAR is our DYNAMITE!
NO LEADER, NO GOD WILL GUIDE YOU!
YOU ARE THE ACTION!
The CHURCH of FEAR says:
HAVE FEAR!!!
FEAR IS THE MOTOR OF YOUR TERROR MACHINE!!!